Marketo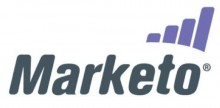 Marketo offers an industry-leading Web-based marketing platform for companies of all sizes to form and preserve engaging customer relationships. Built by marketers, for marketers - Marketo provides everything needed to achieve success quickly and scale as business needs grow.
This complete marketing suite features tightly integrated applications deliver a broad range of capabilities including marketing automation, social marketing, lead nurturing, budget management, analytics, sales insight, and website personalization. In particular, Marketo offers a process-driven automated campaign builder, which provides more flexibility and scalability than the traditional if/then campaign builders.
Marketo has a native integration Salesforce.com (and was selected as the #1 Marketing Solution by users 5 years in a row). In addition, Marketo natively integrates with Microsoft Dynamics CRM and SugarCRM. This bi-directional communication allows sales reps to get a clear picture of the leads in their pipeline, and prioritize based on prospect engagement. 
With over 3,000 customers, and 250 partners, Marketo offers a one-of-a-kind community of brilliant marketers who share ideas, collaborate, and directly influence product developments. We think it's a great fit for pretty much any company engaging in B2B marketing efforts, especially technology companies. Marketo's software can handle clients with a user base ranging from three users to more than a thousand users, but its price point makes it ideal for mid-market and enterprise organizations. Since its foundation in 2006, Marketo has experienced enough momentum to make it the fastest growing marketing automation vendor on the market.
---
Cloud Deployment: Yes
On-Premise Deployment: No
Website:
http://www.marketo.com/
Similar CRM Providers